Earn everyday points with your Community First debit and credit card. Redeem points from reward categories including cash back, gift cards, merchandise, travel, experiences and more! Receive monthly emails about point balances and receive notification when points are about to expire. Visit dreampoints.com/cffcu to learn more.
Patriot Act
To help the U.S. government fight the funding of terrorism and money laundering activities, Federal law requires all U.S. financial institutions to obtain, verify, and record information that identifies each individual or institution that opens an account.
What this means: When opening an account, we will ask for your name, address, date of birth, proof of citizenship and other identification information that might be needed. This information will be used to verify your identity. As appropriate, we may, in our digression, ask for additional documentation or information.
External Links
To assist members in accessing information not maintained on this site, the Community First Federal Credit Union provides links to other Internet addresses. Be advised that:
By clicking on any link to other Internet addresses, you are leaving the CFFCU's web site;
You are linking to an alternate web site not operated by the CFFCU;
The CFFCU is not responsible for the content of the alternate website;
The CFFCU does not represent either the third party or the member if the two enter into a transaction;
Privacy and security policies may differ from those practiced by the CFFCU.
Chatbot & Live Agent
Chatbot Monte-When using the Community First AI Chatbot, Monte, Community First does keep a record of all conversations to help improve it's performance. Names are not provided, nor recorded, thus member's interaction with Monte is confidential.
Live Agent-When using the Community First Live Agent you are interacting with a live Community First representative. Community First will collect and record any personal data that is voluntarily given.
Search 'Community First FCU' in your app store and look for our logo
Download here:
Our Mobile App offers Remote Deposit Capture to deposit your checks to qualified members
Members can also signup for our Cash Back Rewards Program, submit Limit Changes and Travel Notifications, LoanPay Xpress, and more!
To activate your Debit or Credit Card please call 800-466-0040
During business hours, please call any one of our branches:
After CFFCU is closed, please call:
• Debit Cards: 888-241-2510
• Credit Cards: 888-241-2510 (within the US), 909-941-1398 (outside of the US)
Remote Deposit Capture (RDC) is a free service to our members who qualify. You can deposit your checks right on our Mobile App! See more here
If you meet the following criteria, you may be approved to begin using Remote Deposit Capture:
At least 16 years of age
Account and loan must be in good standing
No charged off accounts with the Credit Union
Membership at CFFCU for at least 30 days
Must have a valid mailing address on file at the Credit Union
Must have a valid email address on file at the Credit Union
Must have a valid phone number on file
Must maintain an average balance of $100
*Approval for the service is subjected to CFFCU's criteria and is not guaranteed in any way. You cannot deposit more than one check during a single transaction. However, you may make multiple transactions in one day.
With this on-demand posting, Community First is now able to post your pending ACH deposits early for a $5 fee.
With LoanPay Xpress you can now pay your CFFCU loan payment with an outside credit/debit card or checking/savings account. Setup your payment here
After enrolling, click "Send New Payment". Fill out the name of the recipient along with their email address or mobile phone number. This will then send them a notification allowing them to securely input their banking information. Payments normally post in 1-2 business days.
Phone Number: (800) 860-5704
Credit Union Access Code: 048
PIN: Last 4 digits of main account owner's Social Security Number
A one-stop website at LoveMyCreditUnion.org offers exclusive, credit union prices and rewards, with popular programs like Carvana, TurboTax, and more.
• Make sure you're using the correct Mobile App. In your App Store/Play Store search Community First FCU. We should be the first app listed. Here is our logo:

• Always stick to using cellular data/home wifi on your phone if you need to access your financial accounts instead of a public guest wifi
• Keep your operating system of your phone and your apps up to date
• Don't store login information on your phone in notes, etc. Members can take advantage of the built in MACO (Multiple Authentication Convenience Options) features on the app if desired
• Use a secure complex password
• Password protect your phone. Use a password on your lock screen or facial/fingerprint recognition
• Take advantage of Manage My Cards and eAlerts on our mobile app and get notifications about account activity
The following disclosure is required by the federal Electronic Signatures in Global and National Commerce Act (E-SIGN Act).
By accepting this disclosure, you are agreeing to receiving disclosures and notices on your account(s) electronically. This includes, but is not limited to statement copies, cleared check copies, account notices, credit report copies, etc. If you do not wish to consent to this disclosure, these documents will be mailed to you. By agreeing to electronic delivery of disclosures and notices, you agree to provide us with a valid email address, as well as keep us updated with any changes in account information by contacting us at the phone number or email address listed below.
Community First Federal Credit Union
Phone: 989-352-6031
Email: memberservices@cffcu.biz
Request of Paper Copies:
Even after accepting to receive electronic disclosures and notifications, you have the right to receive a paper copy of these disclosures and notices related to your account(s) at your request. If at any time you would like to receive a paper copy of a disclosure or account notice on your account(s), please contact us at the information provided above.
Withdrawal of Consent:
Should you no longer wish to receive electronic disclosures and notifications you may withdrawal your acceptance at any time by contacting us by email or phone at the information provided above.
Hardware and Software Requirements:
A personal computer or device that can access the Internet.
An Internet browser that is capable to support a minimum of 128-bit encryption.
Software that permits you to receive, access, and print PDF files such as Adobe Reader (version 8.0 or above)
Changes/Termination of Delivery
Community First reserves the right, at our discretion to make changes or discontinue the electronic delivery of such account information at any time. Should a change occur, we will provide you with notice of the change or termination as required by law.
You trust your credit union to bring your products and services that will save you time and money. That's why we've partnered with TruStage Auto & Home Insurance Program through Liberty Mutual Insurance. This program provides discounted rates for credit union members, online services and 24/7 claims service.
Michelle Frey – Community First Insurance Representative
Contact Michelle to request a quote, book an appointment, and more here
Balancing/Research

$15.00/hour (minimum 1 hour)

Foreign Draft

$ Varies based on current conversion

Overdraft Protection Transfer >$10.00
Non-Sufficient funds (NSF)
Special Services-Collections
Stop Payment
Replacement Debit/ATM Card
Re-Issued Card
Please contact our IRA Specialist at 989.352.6031 ext 149 or khartline@cffcu.biz
Credit Reference Information
Loan Processing Fee
Home Equity Processing Fee
Construction Loan Processing Fee
Late Fee (15-day grace period)
Payday Loan
Extension
Pay by phone with Credit Card

$1.00-$499.99: $10.00
$500.00-$999.99: $20.00
$1000.00-$1500.00: $30.00

Replacement Credit Card
Gift Cards
Reloadable Prepaid Cards

Initial: $12.00
Reload: $5.00

Fax/Email Charge
Foreign Fax
Incoming Fax
Copies
Money Orders
Cashier's Check
Notary Public Services

Members: Free
Non-Members: $1.00/page

Dormant Account Fee (after 18 months)
Garnishment
Return Statement Fee
Close/Reopen Account within 6 months
Coin Machine

Members: 4%
Non-Members: 8%

Phone Transfer
Research

$15.00/hour (1 hour minimum)
Safety Deposit Boxes are located at our Lakeview and Trufant branches only.
3×5 (Lakeview & Trufant)
5×5 (Lakeview Only)
3×10 (Lakeview & Trufant)
5×10 (Lakeview Only)
Membership Enrollment
Christmas/Emergency Savings/Vacation Club Early Withdrawal/Closing
Money Market Withdraws over 6 per month
Domestic
Foreign
Incoming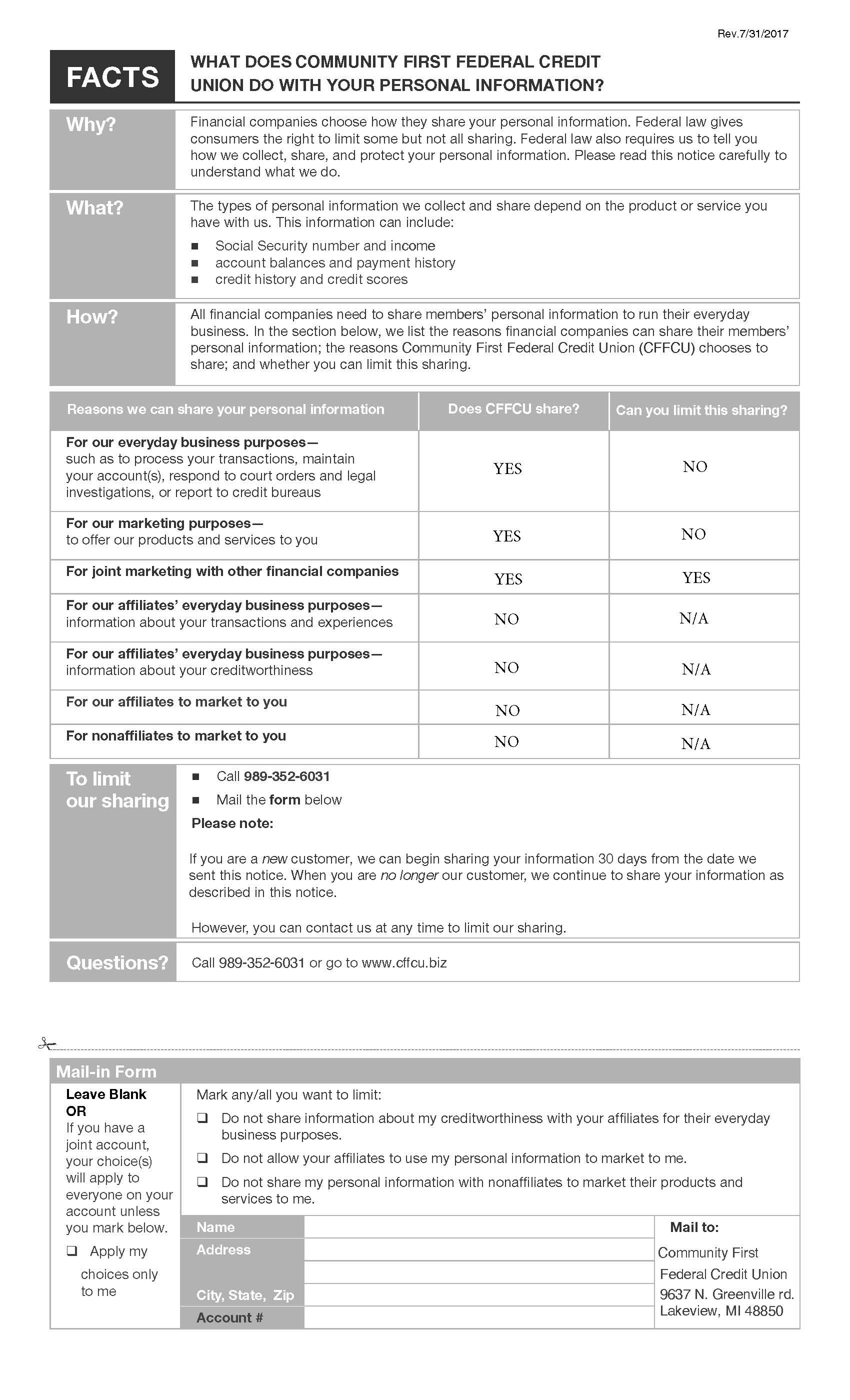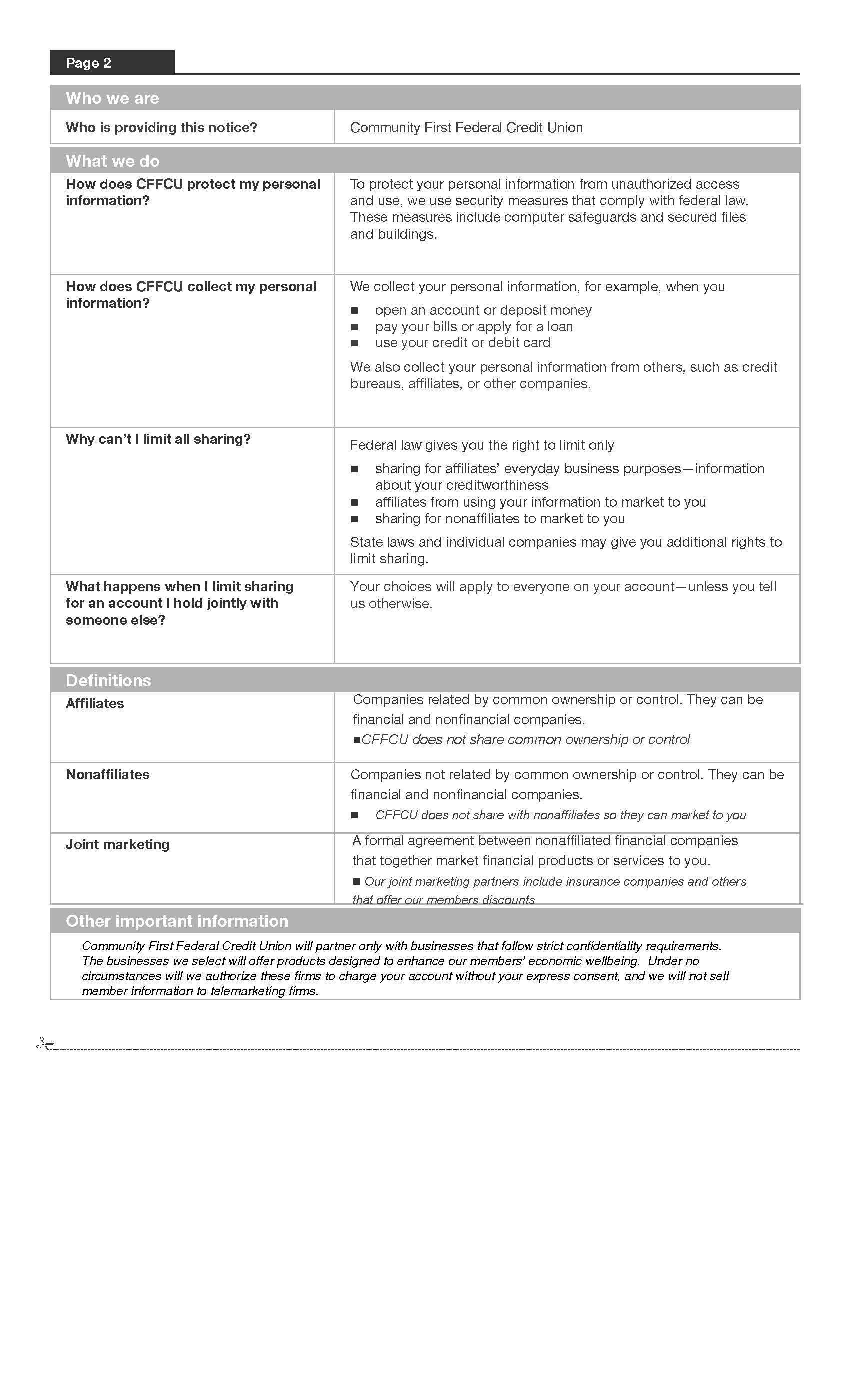 Savings Rates - Effective Friday, March 31, 2023
Account Type
APY
Minimum
Deposit
Minimum
Balance
REGULAR SHARES
0.05%
$10
SUB SHARES
0.05%
$0
CHRISTMAS CLUB
0.05%
$0
VACATION CLUB
0.05%
$0
CHECKING
0.05%
$1000
BUSINESS CHECKING
0.05%
$1000
BUSINESS CHECKING
0.5%
$100000
BUSINESS CHECKING
0.75%
$250000
BUSINESS CHECKING
1.01%
$500000
MONEY MARKET DRAFT
0.2%
$2500
MONEY MARKET DRAFT
0.45%
$10000
MONEY MARKET DRAFT
0.65%
$25000
Certificate Rates - Effective Monday, September 25, 2023

| Certificate Term | APY | Minimum Deposit |
| --- | --- | --- |
| 6 MO CD | 4.25% | $500 |
| 9 MO CD | 4.55% | $500 |
| 12 MONTH CD | 4.5% | $500 |
| 15 MONTH CD SPECIAL | 4.75% | $1000 |
| 24 MONTH CD | 2.5% | $500 |
| 36 MONTH CD | 2.5% | $500 |
Please visit www.mycreditunion.gov to learn more about credit unions, how to protect your finances, and for financial tools and resources.
You have the ability to receive your credit report from each of the three credit reporting bureaus. The credit reporting bureaus are experian, TransUnion, and Equifax.
Visit www.annualcreditreport.com to request your credit report.