Community First Federal Credit Union strives to make a positive impact on the communities that we serve.  We have sponsored sports teams, donated to local charities, and volunteered at various community events.  We strive to support our community in any way possible. That is why we donate to various organizations that have an impact in the lives of people in our community.
CFFCU also operates a 'mini-branch' in a local school.  For information on the mini-branch visit our Wildcat Savers page.
Sponsorship
We have sponsored adult softball, youth summer ball, and volleyball teams.  We sponsored a bowling tournament to raise funds for Autism Speaks.  Each year we sponsor one act at Music in the Park in Lakeview.  We are the main financial sponsor for Tri-County High School's Awards Night.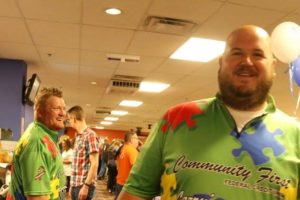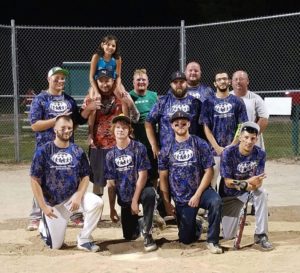 L:  Autism Speaks bowling tournament
R:  Men's Softball
Donations
We have donated to various local charities including the home heating program though EightCAP, Inc..  We give away water at Music in the Park during our sponsored act.  We participate in Angel Tree and Adopt-a-Family.  We have been a drop off location for the local food pantry.
In February 2017, we started the Casual Because We Care campaign.  Our staff has the option of wearing jeans on Friday with a donation to the cause of the month.  Our donations in 2017 totaled $2,020.43. These donations went to charities/organizations that service our West Michigan membership area.
September 13, 2017 was the Children's Miracle Network Jean Day.  On this day staff could wear jeans with a $3 donation to the Children's Miracle Network.  We also 'sold' paper hearts for $1 donations from our membership.  Our wonderful community raised $212 during this one day event.  The Children's Miracle Network that our donation will help is the Helen DeVos Children's Hospital in Grand Rapids, MI.
Volunteering
Our staff have volunteered their time at local school functions by selling concessions or tickets.  We organize kids games during the Trufant Jubilee.  You will see us in the parades during Lakeview's Summerfest, Howard City's Harvest Festival, and Trufant's Jubilee.
Staff Pictured At
Lakeview Runfest 5k-10k/Boat Race at Summerfest/Volunteering at Sand Lake Elementary
IM Kids 3rd Meal/Walk for Warmth